One Coast Condo Project
August 2019 Update
Minutes from August 14 Meeting between ETCO Homes and Castellammare Mesa Home Owners
In attendance:  Afshin Etebar, President and CEO of Etco Homes, David Hudson, Principal of Hudson Development Advisors LLC, and Candice Nesbit, Senior Project Manager of Etco Homes (collectively EH), Joanna Spak, Area One Representative of PPCC, Kelly Comras, Alternate PPCC Representative, Kim Clary, CMHO Advisory Committee and Cindi Young, President CMHO (collectively CM]).
 1. WHAT CAN EH DO OVER THE NEXT FEW MONTHS UNTIL CONSTRUCTION IS COMPLETED TO:
– SUPPRESS ILLEGAL TRUCK AND CAR PARKING ON TRAMONTO?  EH's permits require that their workers park on Los Liones and walk up to the site. While there will be a need for concrete pouring during the finish of Phase Two, EH noted that there is a considerable amount of construction taking place in the neighborhood that is not related to their project and parking on the blind curve is also by construction workers from the Shalom property.
 – IMPLEMENT BETTER SIGNAGE WHEN CONSTRUCTION TRAFFIC IS EXPECTED, TIMELY NOTICE TO THE COMMUNITY IF A ROAD STOPPAGE OF GREATER THAN 10 MINUTES IS ANTICIPATED AND PROVIDE MORE CONSISTENT TRAFFIC DIRECTION ON THE ROAD? According to EH, the long delays have been due to work by the DWP, which EH has no control over. EH also stated that they believe all of the street connections, except for one street light, are now complete (as well as for the Shalom project), so they don't anticipate delays other than for repaving and possibly for installation of the street light. If the City allows them to put it on the uphill side of their entry, the installation will take minimal time. However, if the City makes them put it on the downhill side, then there are some complexities to the installation that could impact traffic flow.  UPDATE:  On 8/23/19 EH and Alex Shalom agreed to contact the HOA in advance of future road construction so that the neighborhood may receive early notification about road closures on Tramonto Drive.
 – IMPROVE CONSTRUCTION WORKER'S COMMUNICATION TO DRIVERS APPROACHING THE PROJECT?  While no organization can control the behavior of all employees, EH has strict rules about workers' interaction with the public. Since the project is nearly finished with any heavy equipment work, they don't anticipate a lot of confusion or aggravation occurring in the future. If there is an incident, please contact Sr. Project Manager Candice Nesbit (see contact information below).
– ENFORCE LITTER LAWS AND, WHEN LITTER IS EVIDENT, TAKE RESPONSIBILITY FOR CLEAN UP? Since construction began, EH has routinely scheduled a clean-up crew every week on Friday to remove trash from Los Liones and the area of Tramonto running up to the complex. If further evidence of trash is discovered, please contact Sr. Project Manager Candice Nesbit. (see contact information below).  UPDATE:  CM has followed up with Alex Shalom, but please keep in mind that construction workers from other projects unrelated to those on Tramonto Drive and summer beach goers also park on Los Liones and are also responsible for litter.
2.  WHO IS RESPONSIBLE FOR THE REPAVING TRAMONTO? EH is responsible for repaving of Tramonto, from the northern property line of the Ocean Woods Terrace condos down to Los Liones. Repaving is scheduled for September/October, once the final cement for the Second Phase is poured and the driveway pavers are installed. Homeowners should keep in mind that current projects (one across the street from the One Coast Project at 17355 Tramonto Drive and one across from the Tramonto Bulkhead at 17543 Tramonto Drive) are in different phases of construction and may require the use of heavy machinery, the transport of which will affect the quality of road conditions for some time into the future. EH is in contact with Alex Shalom, who is building the home across from their complex. Through conversation, they understand that he must remove the area of dirt above his property (located on the downhill side of the blind curve) to widen Tramonto Drive, and that Shalom will be responsible for repaving that portion of Tramonto Drive once his construction is complete and before occupancy is allowed. CM asked whether EH's repaving efforts could be coordinated to coincide with Shalom's to decrease traffic issues. According to EH, Shalom has not yet received his B Permit, which delays his road process to beyond EH's schedule. CM asked whether a request to Bonin might accelerate approval of Shalom's B Permit. EH agreed it was worth a try.  UPDATE:  On 8/23/19, EH notified the HOA that EH and Alex Shalom have agreed to coordinate their street work schedules in an effort to decrease the amount of time Tramonto Drive will be under reconstruction from Los Liones to the upper property line of Ocean Woods Terrace.
3. WHAT IS THE TIMETABLE FOR COMPLETION OF EACH PHASE OF THE PROJECT? The first (lower, interior) phase of the project is due to be completed in October. At this point, two Phase One models are being staged with furniture to be photographed for the website and sales brochures. Occupancy of Phase One should start by end of year. The final phase will be completed by April of 2020.
4. WHAT ELEMENTS DID THE CITY CONSIDER IN APPROVING THE LOCATION OF THE GUARD BUILDING? HOW DOES EH PLAN TO AVOID POSSIBLE BACKUP OF CARS ON THE CURVE LEADING UP TRAMONTO?  Below is an image (taken with a camera phone) of the front entrance of One Coast showing the guard kiosk, where a guard will be posted 24/7. There will be two entrance lanes, collectively large enough to accommodate 4-5 vehicles. Only the lane marked for GUESTS will require stopping at the kiosk, as HOMEOWNERS will continue past the kiosk to the entrance gate. The EXIT will be shared by One Coast and Ocean Woods Terrace occupants. The ENTRANCE and EXIT gates are timed sequentially to allow no confusion with incoming and outgoing traffic. There are 3 guest parking spots. Visitors who may require additional time with the guard will be directed out of the GUEST lane and into one of those spots. There are 16 guest parking spaces within the complex. No overnight parking is allowed except as regulated by the One Coast HOA.  In the case of events or parties, valet/off-site parking must be supplied by the host.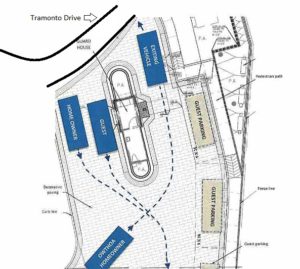 5. ARE THERE PLANS FOR THE GUARD KIOSK TO PROVIDE VIDEO SURVEILLANCE OF TRAFFIC TRAVELLING ON TRAMONTO? The complex will have video surveillance but none of the cameras will be outward facing toward Tramonto. However, for the benefit of all homeowners in Castellammare, EH agreed to add a camera to record traffic on Tramonto Drive.
Submitted by Cindi Young, CMHO President

CONTACT FOR ETCO HOMES:
Candice Nesbit, Sr. Project Manager
8447 Wilshire Blvd. Suite 400
Beverly Hills, CA 90211
Cell: (805) 844-4855
Office: (310) 691-5500
Fax: (310) 282-8193
[email protected]
July 2017 Update
In case you are interested, I visited the development office of the new condo project as a pretend buyer. The plans are still preliminary, but they have poured the foundations of two of the eight buildings they plan on building. There will be 53 units, with a price per square foot of $1k to $1.5k per sqft², and the units will range from 3000 to 5000 sqft². Expected range of prices per unit is $3 to $6 million, with ~130 parking spaces plus guest spots.
Some observations:
Each unit will have a two or three car garage, typically detached.
The driveway off Tramanto will split into two roads, upper and lower to service the respective buildings.
Expected move-in date for first two buildings summer of 2018.
There will be no significant common area amenities, meaning no pool, gym, or common room.
Most units will have separate elevator access to their own unit.
The area directly behind the Bay Club  gym is a separate box-like apt building from a different developer.
The pricing seems out of line with any possible comparison, but the plans are still in flux. Purchases are currently non-binding, with $50,000 refundable down payment.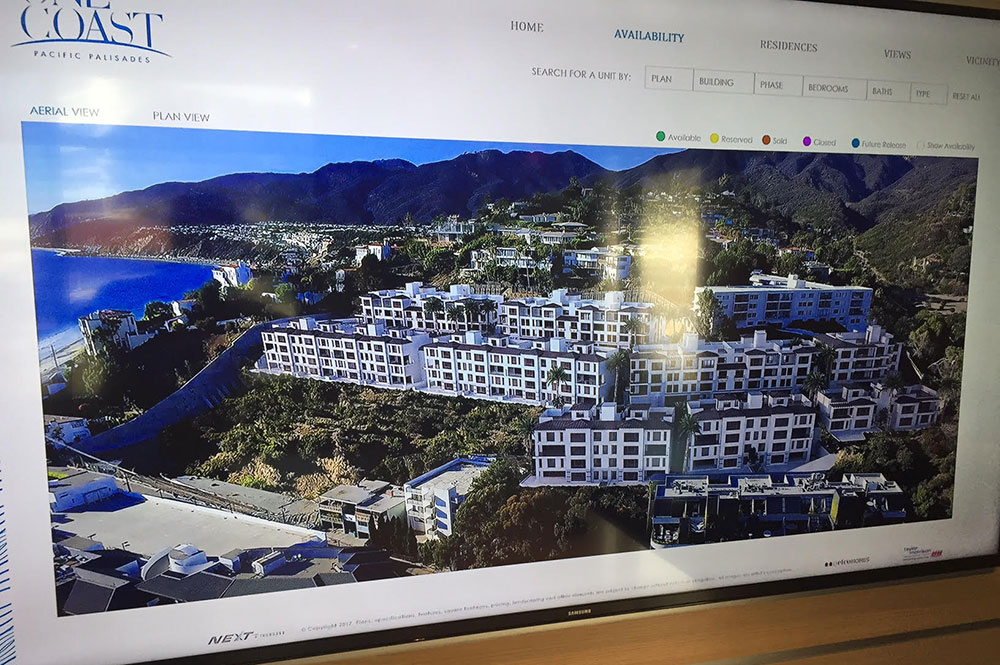 July 2008 Update
The apartments on this site where Landmark plans to build 54 townhouses have been demolished down to the garage floors and driveway. Recently, the area has been fenced and we have heard that a grading plan is being developed so the earth movement may start next spring.
April 2008 Update
The developer received a one-year extension from the City to his building permit and is currently working on plans for the projected townhouses. In addition, a neighbor reports that Landmark has requested an amendment to their California Coastal Permit for permission for a reduction in the number of condos from 61 to 54 and a reduction in total size of 1578 square feet with a slight change in building footprints.
Summer 2006 Update
The Landmark Condo Project has been reduced from the original 82 to 61 units keeping the same square footage. The Coastal Commission has approved the project and construction is scheduled to begin in 2007. The developer has agreed to include potentially affected homeowners in his insurance policy.
Public Hearing Held on November 4, 2004
There was a Public Hearing on the City Planning Commission approved 82 unit Landmark Project at 17331 and 17333 Tramonto Drive on Thursday, November 4, 2004 in Room 1010, City Hall, 200 North Spring Street at 8.30 am.
The City Planning Commission approval which was issued on September 21, 2004 was appealed in writing by the prescribed deadline by CMHO, the developer, Ken Kahan (Palisades Landmark, LLC), PPRA and a group of individual homeowners who live on Revello Drive.
The developer was appealing to be permitted to build offsite the low cost housing component of the 82 units mandated by the Mello Act.
It was anticipated that only the five appellants would be allowed to speak. However, we urged you to attend this public hearing to show your support for the CMHO position that only 50 units should be built.
Appeal Submissions by CMHO:
BE SURE TO CHECK OUT ALL THE LATEST NEWS!